Myten om Makida stöds av DNA-analyser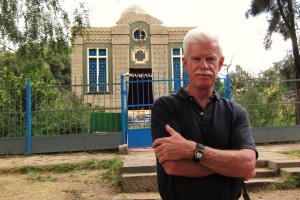 Drottningen av Saba hette Makida och härskade i Etiopien för cirka 3 000 år sedan. Hon reste till Jerusalem för att träffa kung Salomo. Hon ville skapa en allians mellan sitt land och det mäktiga Israel.
Kung Salomo hade andra, mer jordnära intressen. Han blev förälskad i den vackra svarta kvinnan. Hon avböjde hans inviter och det slutade med att han lurade henne i säng. Snubblande nära en våldtäkt, skulle jag nog säga. Något "samtycke" var det knappast fråga om.
Hon återvände till sitt land och födde sonen Menelik. Denne blev grundare av den salomoniska kejsardynastin i Etiopien, vars siste kejsare hette Haile Selassie. Han mördades 1975.
Om detta handlar min historiska roman "Makida – drottningen av Saba" utgiven på Bonniers förlag 2005. Läs recensioner, klicka HÄR.
Många har förstås avfärdat berättelsen som en skröna. Men nu får den stöd av modern genetisk forskning. I tidskriften The American Journal of Human Genetics (klicka HÄR) redovisas resultaten av omfattande undersökningar. DNA-tester visar att Etiopien upplevde ett inflöde av människor från Levanten, alltså den del av Mellanöstern där Israel ligger, för cirka 3 000 år sedan.
"By analysing the genetics of Ethiopia and several other regions we can see that there was a gene flow into Ethiopia, probably from the Levant, around 3,000 years ago, and this fits perfectly with the story of the Queen of Sheba," säger professor Chris Tyler-Smith på  Wellcome Trust Sanger Institute i Cambridge.
De som invandrade till Etiopien var de israeliska judar som hjälpte den unge prins Menelik att smuggla den gyllene förbundsarken innehållande Moses stentavlor till Saba. De som blev anfäder och anmödrar till falashajudarna som under 1980-talet förflyttades till Israel.
Arken förvaras fortfarande i staden Axum i norra Etiopien.
Min roman är en hårresande spännande historia som knyter ihop bibelns berättelser med vår egen tid. Det går bra att beställa "Makida – drottningen av Saba" direkt från mig. Hundra kronor plus emballage och frakt. Mejla mig på bengt(at)ethnopress.se