Folkmordet i Rwanda – 20 år senare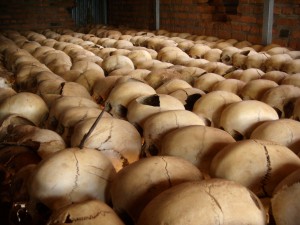 Det är nu tjugo år sedan folkmordet i Rwanda startade. Den 6 april 1994 sköts ett flygplan ned när det var på väg att landa mitt inne i huvudstaden Kigali. Ombord fanns landets president Juvénal Habyarimana. Han tillhörde folkgruppen hutu. Attentatet utlöste en massaker som hade planerats en längre tid. Under loppet av drygt tre månader våren 1994 mördades omkring 800 000 människor, nästan samtliga tillhörande folkgruppen tutsi.
De flesta dödades med träklubbor, yxor och machetes. Utslaget på hundra dagar blir det 8 000 döda om dagen. Betänk då att de flesta morden ägde rum under april månad. Sannolikt dog då minst 20 000 om dagen i ett land som till ytan är mindre än Småland.
Det är mycket snack om internationell rätt i dessa dagar, a pro på Ukraina. Barack Obama slår sig för bröstet. Hade han agerat annorlunda än sin föregångare Bill Clinton om han varit president 1994?
En som möjligen har funderat över det är Paul Rusesabagina som drev Hotel des Mille Collines i Kigali. Där upplät han skydd åt och räddade livet på 1 268 (enligt Wikipedia) skräckslagna människor.
Berättelsen om honom resulterade sedermera i den tämligen förljugna och hårt romantiserade filmen "Hotel Rwanda".
Många antog nog automatiskt att Rusesabagina skulle hylla den tutsidominerade regering som tillträdde efter det att hutumilisen drivits på flykt. Så blev det dock inte. Istället har Rusesabagina blivit en av president Paul Kagames skarpaste kritiker.
Allra bittrast är dock Rusesabagina när han blickar tillbaka på hur omvärlden förhöll sig till dramat sommaren 1994. Så här skriver han:
"During those 3 months of the Genocide, while I was at the Hotel des Mille Collines trying to shelter the people under my roof,  I tried to reach President Clinton and the rest of the international community.  I tried by every means to reach the outside world and to ask them to help rescue my countrymen from the Hell that we were living in. I could not get anyone to listen then. I especially tried to get the United States government to help.  I called and faxed and wrote on behalf of all Rwandans asking the President and the State Department to help stop the Genocide. I heard nothing in return. 
Today, we can all do more. There are people dying in Rwanda and the Congo every day. The Rwanda government signs peace deals with one hand and waves their militias in to the Congo to kill innocent victims with the other hand."
Jag var i Rwanda för några år sedan och filmade en så kallad gacacarättegång, där en misstänkt folkmördare rannsakades. Se filmen genom att klicka HÄR.
Se även min film om massakrerna i kyrkorna. Klicka HÄR.