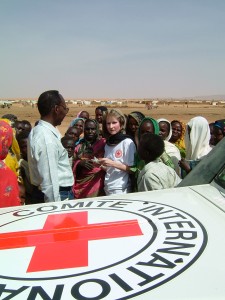 Ni som har följt det jag har skrivit om bistånd under årens lopp, har förstått att även den till synes goda nödhjälpen många gånger har en ful baksida.
Att ifrågasätta delar av det arbete som bedrivs av Unicef, Röda Korset och andra humanitära organisationer ger inga stilpoäng inför de politiskt korrekta åsiktsdomarna, det kan jag försäkra. Jag har fått ordentligt på huden när jag har dristat mig till att påpeka att nödhjälp ibland blir täckmantel för krigsoperationer.
Nu finns en ny bok som tar ett helhetsgrepp på det här. "The Golden Fleece" heter den. Klicka HÄR för en närmare presentation.
Det gyllene skinnet, skulle den heta på svenska. Titeln anspelar på den grekiska myten om Jason som jagade detta värdefulla föremål.
Boken centrala tema är hur nödhjälp sedan lång tid tillbaka har fungerat i symbios med krigsoperationer. Det finns i dag otaliga exempel på detta i Afrika. Utanför den kontinenten utgör Afghanistan den bästa illustrationen på fenomenet.
"Humanitarians have been used… as fig leaves to veil government action and inaction in the face of war crimes and genocide. Humanitarians have been paid, manipulated, and `embedded' with singular disregard for humanitarian principles. They have been routinely ignored, even in cases of obvious humanitarian need and enormous public outcry. They have been silent when they should have spoken out, and they have spoken out when they should have remained silent. They have called for military intervention… and on the few occasions when they got their wish, they mostly lived to regret it," skriver Ian Smillie, en av bokens författare och grundare av organisationen Canadian NGO Inter Pares.
I boken presenteras flera exempel på hur nödhjälp har manipulerats i konflikter alltifrån Vietnamkriget till nu pågående krig i Afrika. Nödmat kan användas för att tvinga människor att flytta, för att mätta soldater, krossa fungerande marknadssystem eller för att berika lokala krigsherrar.
Oftast är det tråkigt att behöva säga "vad var det jag sade". Men vad var det jag sade i min bok "Sveriges afrikanska krig" 2008? Jag är i alla fall inte ensam om mina dystopiska bedömningar.